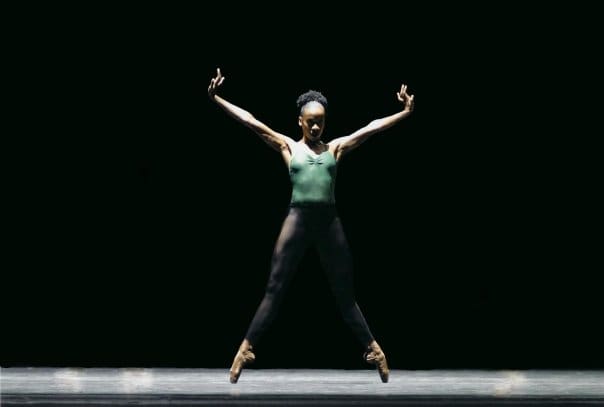 Dance Mogul: When did you discover the spirit of dance?
Nikkia: I believe any person discovers the spirit of dance as soon as they can move. However, if you're asking when did I discover my love for classical ballet, it was the age of six (6) when my mother put me in classes. I was attracted to the beauty of it but was driven by the difficulty of it…managing the coordination of rhythm, athleticism, and grace.
Dance Mogul: Were your parents supportive of your talent?
Nikkia: My mother put me in classes when I was six (6) years old at a small theatre and dance school called Sojourner Truth on the south side of Fort Worth, TX. Broadway legend, General Hambrick would teach classes there periodically and after taking one of his ballet classes, he told my mother he believed I had the ability to train seriously. He referred her to the Gayle Corkery School of Ballet. I began classes at Gayle's at the age of nine (9). The rest is my history – full scholarship summer session student to PNB School summer 1990, full scholarship summer session student to SAB summers 1991-1993, full scholarship full-year student 1993-1994 and then on to my professional career. I often think about the sacrifices my mother made for me. It makes me tear up just to think about it – how much she loves me and believes in me. When she was growing up, the limitations her generation faced were that they either weren't given the opportunities to achieve in certain areas (sometimes by law) and/or if they were given the opportunity, there wasn't the money and/or financial support to pursue it. She told me that once she knew that I had the talent – the gift – her only decision was "how" she was going to get the money. She gave up a lot and I felt the only way to repay her was to succeed. I still believe that. I love her so much.
Dance Mogul: How did you develop a training work ethic?
Nikkia: Now that, I got from my daddy hahahhaha. My dad has a work ethic you wouldn't believe. What makes it crazy is that he doesn't even view it as a "work ethic". It's just part of what you have to do. It is your responsibility and a part of life. He grew up in the country in East Texas and started working when he could walk. He instilled that sense of responsibility in myself and my sisters. We grew up like normal kids with chores – only not only were we vacuuming the house, washing dishes and cleaning bathrooms as a part of our chores, we were also helping with yard work, pulling weeds, hand-washing cars, learning to fix things. He wanted us to be self-sufficient. He taught us that if you were going to do something, do it right the first time. No sense in putting half effort into it because you'll only end up having to redo what you did to get it right. After a while, it became a habit. I carried it over into everything – my chores, my schoolwork, and especially dance. If you only have an hour and a half in ballet class to improve, to get better, don't waste time only putting half your effort into it.
Dance Mogul: When was your big break?
Nikkia: Well my career never "catapulted" me into any kind of fame lol so I can't really speak to having a "big break" but if I were to speak to a time that I felt was a turning point in my career, it would be in college. After leaving SAB in 1994, I came home to Fort Worth and was considering what I would do with my life. My experience at SAB made me want to quit ballet – the politics, the bigotry, and discrimination – I had had enough. I enrolled at Texas Christian University in the fall of 1994 to continue my academic career. TCU had a wonderful dance department and I figured what easier way to get some elective courses out of the way by choosing Ballet as an elective hahahaha. Under the tutelage of the amazing Li Chou Cheng and legendary Fernando Bujones (who had just come into the program as the Choreographer-In-Residence) all while still taking classes from my home studio at Gayle's, I began to get my love for dance back. The passion of dance began to ooze back into my development and my technique and artistry evolved. And my mentors could tell. In the spring of 1995, after class on Saturday, Julie Ballew (my dance teacher at Gayle's school) asked me if I was reconsidering the option of pursuing a career as a professional ballerina. I hadn't decided and honestly, didn't really want to think about it. Ms. Julie convinced me that if I was going to give it a shot – even if it wasn't in the near term future – I should still get back in the swing of auditioning, just so I wouldn't get too far removed from how it's done. I told her I would. Her response? "Great! There's an audition in 2 hours I'm taking the girls to and you can come too!" Classic set-up. Classic Ms. Julie hahahahahaha.
I rode with her to the Rock School of Pennsylvania Ballet's summer session audition in Dallas. It had been AGES since I had auditioned for anything. All the classic elements were there – little girls ages 9-16 with buns hair sprayed TO DEATH; lots of glitter and pink-colored everything; overbearing ballet mothers sizing up "the competition". I was clearly the oddball out – black leotard, cut-off black tights, a ponytail that had been clipped to the back of my head in some haphazard manner, and not a lick of makeup. At 19, I was the ballet "hag" lol. I don't look as old as I am – never have – so the only thing that gave me away a little bit was that I was taller than almost everyone else. Prior to the audition, I specifically remember hearing a couple of the mothers talking about me and one even went so far as to tell her daughter to stand near me during registration so she could get a number close to mine and go in my group because "you'll definitely be the stand out next to her". I looked around to see if anyone else heard how rude this wench was and sure enough, I caught Ms. Julie's beautiful, piercing brown eyes standing just within earshot. She smiled warmly and then winked at me as if to say "Don't worry, kid. Wait 'til the music starts. You'll show them…"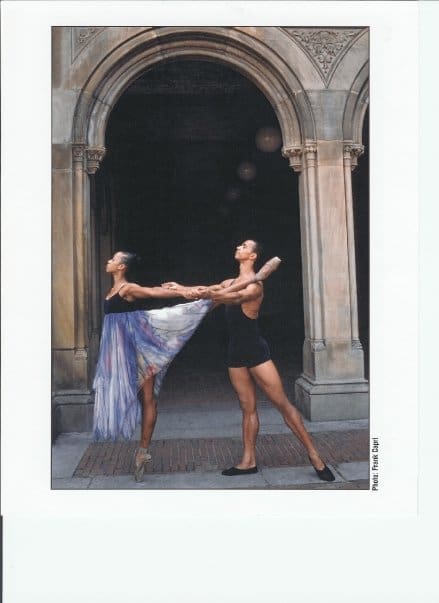 The audition started and because I wasn't fully vested in the audition, I danced with no concern. That's when you dance your best. It's how everyone should dance. Absolutely confident. Absolutely free. Even if you mess up, it still feels good. I would look at Ms. Julie periodically and I saw the smug look of absolute pride and fierce shade beam across her face as the other mothers who openly mocked me prior to the audition whispered trying to figure out who I was and to whose studio I belonged. Class came to an end and as several of the moms rushed Ms. Julie to smile, say complimentary things about the "ugly duckling" they misjudged, and inquire about the studio at which I trained, I immediately went to the back of the room to collect my things. As I stuffed my belongings in my bag, I heard them making the standard end of audition announcement – "We'd like to thank everyone for coming to audition today. If we call your number, please come to the front so we can share some additional details with you. If your number is not called, we thank you so much for coming to the audition and look forward to seeing you next year". They began calling numbers and when finished repeated, "If your number was not called, thank you so much for coming and we'll see you next year."
I stood up to put on a cover-up and heard "….and number 85, can you just hang out for a minute? We'd like to talk to you separately." I thought in my head "Wow, that sucks for number 85 – we've been here all day, jeez…". And then realizing I hadn't taken my number off, I ripped off the paper pinned to my chest and saw it. Number 85. Lord, what now? hahahahaha As the last of the girls left the room, I wandered up to the front of the room.
The audition directors eyeballed me for a bit and then one said flatly, "Were you auditioning for the summer session? We just wanted to know because you seem a bit long in the tooth for this kind of thing." I couldn't help but laugh. I thanked them profusely for the class, told them my story and admitted my reason for being there – just getting my audition feet wet again. They nodded and said, "We figured, but with that said, we'd like to give you full tuition to the summer session anyway. You danced beautifully and we think the artistic director of the company should see you. Would that be something you'd be interested in?" I was FLOORED. I was able to squeak out a "Uhm…sure." They responded "Great! We'll give you a routine acceptance packet but follow up with additional details specifically for you later. Again, great class." That was it. That was the kickstart to what would be my career.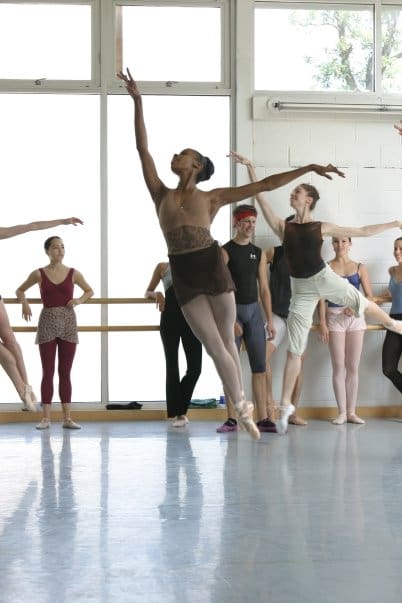 Dance Mogul: What have been some of the best moments dance has given you?
Nikkia: Oh wow. Very difficult question lol. There are so many. Performing some of the classics – ballets so beautiful that even the corps roles made you feel like the only person on stage – Balanchine's Serenade, 4T's, Nutcracker. Performing ballets so hard that knowing you survived them makes you feel like you could survive ANYthing – Sir Fredrick Ashton's Les Patineurs, Forsythe's In the Middle Somewhat Elevated. Being chosen by a visiting choreographer to perform a principal role when I was only an apprentice. The silly ballets. Some of the outrageous costumes! All those added to the moments but what really made those moments the best was the dancers you experienced them with. That's what I really remember. That's what stays in my heart. Watching their artistry. Seeing them give their passion and heart to not only the audience but also to their fellow dancers. To me. The growth of an extended family over the years. The comradery and love were beautiful.
Dance Mogul: What inspiration and empowerment do you have for the next generation of female dancers?
Nikkia: First, remember that all art, including dance, is subjective. There will be those that do not see your "gift", your talent, your real ability. While it is important to be aware of your limitations (ballet ain't for everybody, just like singing ain't for everybody lol), you also have to be very aware and very confident in the ability you truly have. Some people won't like your body. Some people won't like your style, but if you truly have the technique and the talent, trust me, some people will. Find those people because then you can grow. Second, not every friend is really your friend and not every enemy is an enemy. There will be those that will smile in your face just so they can make sure their aim is spot on. Some of the people who are the hardest on you are the ones that genuinely have your best interests at heart. The teachers that seem the meanest, the ballet masters and/or mistresses that seem to come down on you the hardest – they are the ones that know you have more in you and want to bring it out. Be wise enough to be able to decipher who is who and treat them accordingly. Ultimately, the only person who can take of you is you. Keep those in your corner close. Everyone else will fall by the wayside. Next, remember that all careers must come to an end. Be prepared for that day. Do you have the education to fall back on? What other skills do you have? Are you saving your money? Investing? What is your exit strategy? Don't leave yourself without any options. Be realistic about the fact that your career could end unexpectedly by an accident in class, on stage, or simply stepping off a curb on your way to get coffee. Lastly and probably most importantly, never lose sight of who YOU are. Be you, unapologetically, at all times. Once the music has stopped, you will be left with yourself. Be sure you can face the person in the mirror and sleep peacefully at night.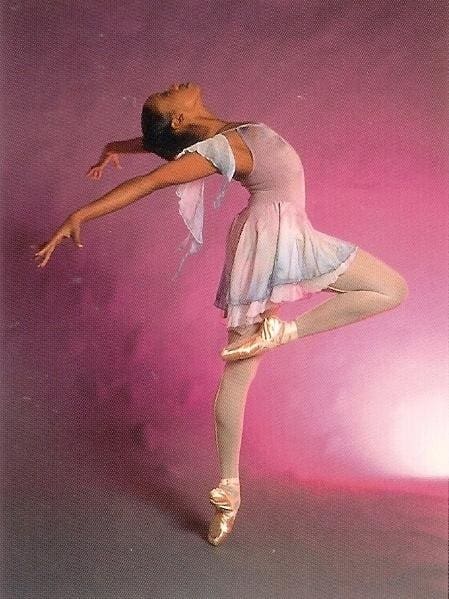 Dance Mogul: Is there anyone you would like to thank for helping you on your journey thus far?
Nikkia: Of course, my mother, Geraldine Parish for loving me, believing in me and sacrificing so that I could pursue my passion. My father, James Parish for instilling in me the confidence to know I could overcome any obstacle and the will to actually do it. Every single time. Gayle Corkery School of Ballet – for their sacrifices and support in fostering my talent. Ms. Julie Ballew, my ballet mom, for all her tough love and complete dedication to my development. I will never be able to repay you for all you have given me. Li Chou Cheng for his passion and commitment to bringing the absolute dancer out of every one of his students. He is truly a master of his craft. I remain in awe of you, sir. The staff at School of American Ballet for telling me at the age of 17 that I either try modern dance as "my people are good at it" or try going to school because you'd heard I was smart because I would never be a professional ballerina due to the fact my body changed and was no longer "suited for classical ballet". You have no idea how that later motivated me to earn and own every role I was given and how much I reveled in proving you wrong.
Fernando "Mr. Bew-Jones" Bujones – for being the humble legend and consummate artist that he was. To see him was amazing. To have him see you (& more importantly, see you as an artist) was life-changing. Bojan and Stephanie Spassoff – for seeing a dim light in me that almost went out and choosing to fan the flame. Jeffrey "Jeff" Gribler, ballet master extraordinaire, for continually showing me the fun that should be always a part of your craft.
Sandra "Sandy" Jennings (Eshima) – THE ballet mistress, for loving me enough to tell me my fifths could be better, my first attempt at stage makeup looked dismal at best and for always pushing me to want "a better look" lol My dance family – the dancers who loved me unconditionally and with whom I shared the stage and my life. My dance career and life would not be as rich and full of the love and light that it is without you. I cherish it always. I would also like to thank all of the above as they continue to influence me along in my journey after dance. I strive to continue to make each one of them as proud of me as I am to know them.