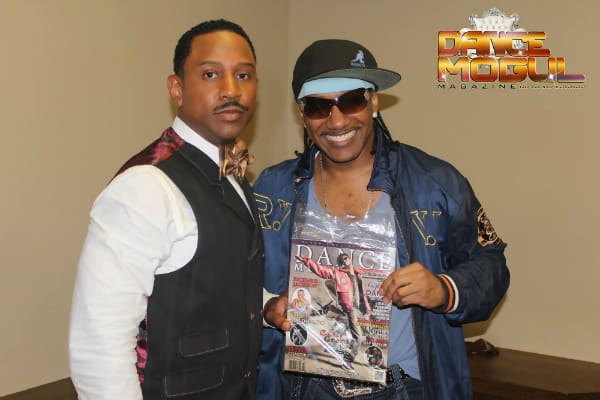 Founder of Dance Mogul Magazine & Kangol Kid
Dance Mogul Magazine had the opportunity to interview Hip Hop Music and Dance Pioneer Kangol Kid at Darrin Dewitt Henson Master Workshop 6/16/2013. Kangol came though to show his support for Darrin, Dance and the Hip Hop Culture.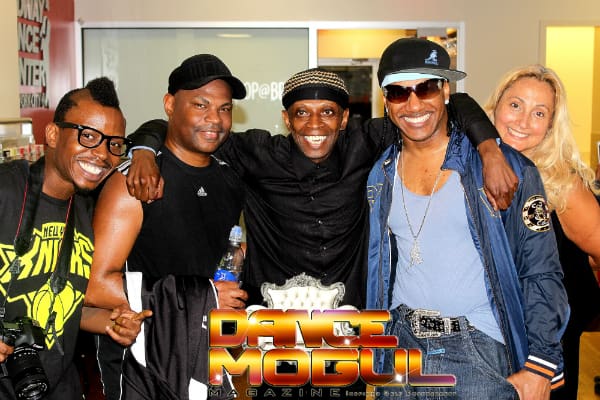 Anthony AntBoogie Rue II, Michael Boogaloo Shrimp Chambers, ShockaLock, Kangol Kid, and Peaches Rodriguez.
Parents dream of their children growing up to be Doctors, Lawyers or Naval Academy Grads. KANGOL's father was no exception. As a Haitian-born New York City taxi-driver, KANGOL's dad urged his son to go to college to pursue one of these goals, but KANGOL had other plans. As he says, "After many years of watching the JACKSON FIVE, SYLVERS, OSMOND BROTHERS, and TOM JONES, I knew what I was destined to do". In his case, KANGOL made the right choice.
KANGOL's career as an entertainment entrepreneur began as a breakdancer for the Super Producing team/R&B Band FULL FORCE then he joined the legendary Rap group WHODINI as a breakdancer; within months, he, and his group U.T.F.O., became the number one Rap and Breakdance act in the country. While "Roxanne, Roxanne", their phenomenal Top 10 single screamed up the charts, U.T.F.O. was voted best Rap group at the Urban Music Awards and scored featured spots on Don Cornelius' Soul Train, the Phil Donahue Show and performed live for actors Dustin Hoffman and Tony Danza. U.T.F.O. was the first Rap group to perform at The World Famous Apollo Theater in Harlem, where they opened for legends Hall & Oates and The Temptations' Eddie Kendricks and David Ruffin.
KANGOL is the first Hip-Hop product endorsed Rap artist, through his official sponsorship from KANGOL HEADWEAR. The nickname KANGOL was acquired from neighborhood friends as a "nod" to the many KANGOL hats he owns and wears.
But KANGOL hats are not the only hats he wears; KANGOL balances his time between Producer, Composer, Performer, Artist Manager, Songwriter, President of Kreative Entertainment Group (his music production company) and CEO of Done Right PR (his public relations firm). In addition, KANGOL is popular on the highschool and college lecture circuit, providing incite on fatherhood, the state of Hip-Hop and the ins/outs of today's music business. This Brooklynite has been a featured speaker at Harvard University, and has received a proclamation from the City of New York for being the first Haitian in Hip-Hop Music.
KANGOL's musical accomplishments reach far and wide. In addition to his success as a member of U.T.F.O., KANGOL has scored several hits as a writer and composer. Beginning in 1985, KANGOL had a featured song on "LISA-LISA and THE CULT JAM with FULL FORCE's" platinum album. He also managed and produced WHISTLE, including the international hit "(Nothin'Serious) Just Buggin" in collaboration with Howie Tee. The distinct whistling sample from this track can be heard scratched on Will Smith's and other various recordings. KANGOL also produced baseball superstar DARRYL STRAWBERRY's rap record "Chocolate Strawberry" and SCOTTIE PIPPEN's Sega CD Rom "Slam City." His other hits include U.T.F.O.'s Number One Rap Album, "LETHAL"; featuring the rock band ANTHRAX on the title song; WHISTLE's remake of HEATWAVE's "Always and Forever," and producing gigs with GERARDO, 7669 and CHERYL "PEPSI" RILEY. As KANGOL continued to balance his many careers, he shared his talents with Female R&B groups "3LW" and "BLAQUE", Latin/Pop group "C-NOTE," who both coincidentally recorded a remake of KANGOL's "Right Next To Me."
KANGOL is notorious for re-inventing himself. Besides writing and producing songs, he has recorded voice-overs for various MTV commercials & animations, jingles for NY's HOT 97 and written his own column entitled "Yo KANGOL," which debuted in Black Beat Magazine and was later revived on AllHipHop.com. The column was designed to answer music related questions for up & coming artists nationwide. He later embarked in the world of cinema and scored his first independent film entitled "Nightmare" which later won an award for "Best Movie Score". This workaholic then went on to score the independent motion picture "The Other Side of Hip-Hop" which included an original song written and produced by KANGOL which featured his son's R&B group "Project: Plan B". He continues to go "Hollywood" (which just may become his new nickname) with his featured role in HBO's "The Lost Book of Rap" as character Professor Firestein scheduled to premiere in Summer 2013.