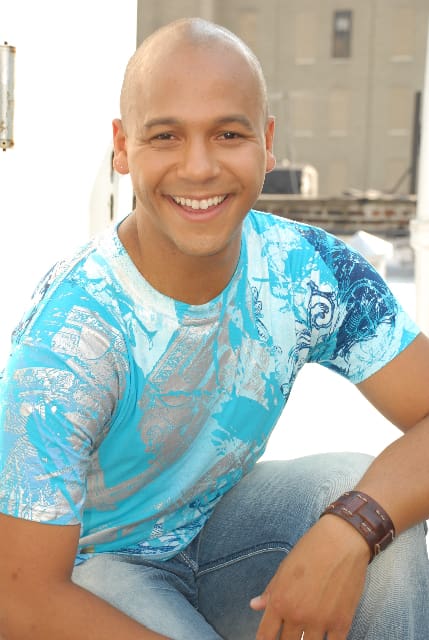 Derrick began his formal training in a local studio of his hometown Southwick, Massachusetts where he studied ballet, jazz, tap, and acrobatics with his teacher Brenda Barna. After furthering his dance education at New York University's Tisch School of the Arts, Derrick began his professional career and has had the pleasure of performing with Ballet Hispanico of New York, Battleworks Dance Company, The Joffrey Concert Dancers, Northern Connecticut Ballet, Koresh Dance Company, and A.S.H. Contemporary. Additional performance credits include the First National Tour of "Footloose" and "A Few Good Men DANCIN'…", the European Tours of "Evita" and "West Side Story".  Walt Disney World's "Kids of the Kingdom" and Radio City Music Hall's "Christmas Spectacular", as well as the World Premiere of the Opera "Le Cid" starring Placido Domingo.
Derrick has also gained recognition as a choreographer and has had his work commissioned by ABC Television for the "Boscov's Thanksgiving Day Parade", the 2000 Republican Convention, "Sunoco's Welcome America's 4th of July Parade", the "Barrymore Awards", "76er's Dance Team" and the "Philadelphia Chamber of Commerce Millennium Kick-Off" to name a few. While currently residing in New York City, Derrick serves as the Artistic Director of the newly formed company Bridge Dance Concepts, serves on faculty at Connecticut College, freelances as a choreographer, master class teacher and adjudicator for major dance organizations throughout the United States and Canada. Derrick took the time to take us on his journey through dance, we hope that his story inspires and empowers you to want more and do more within the arts.
---
Dance

Mogul 

Exclusive Interview
---
Dance Mogul: When did you develop a passion for the arts and who were your inspirations?
Derrick Yanford:  I would have to say my passion for the arts developed around the age of 13.  I was always dancing around when I was young.  I was a rather rambunctious child.  There was always music in my house so I just seemed to be dancing all the time.  I didn't start my formal training until I was 12 but, it didn't take long for me to figure out that dance was going to be a major part of my life.  I had my first professional job at the age of 15 and from then on I knew this was what I was going to do. As far as my inspirations are concerned, the biggest and most influential person in my life during my formative years was undoubtedly my teacher, Brenda Barna.  Such an amazing woman.  I learned so much from her. She showed me the world of dance and it's possibilities.  I would not be where I am today without her.
Dance Mogul: Were your parents supportive of you?
Derrick Yanford: My mother was very supportive of my dancing.  She was the one who encouraged me to start training. As for my father, I didn't have the greatest relationship with him.  When I started taking ballet, my mother and I just didn't mention it to him.  You have to understand that my father was from a very different culture.  He was born and raised in Liberia, a small, war-torn country in Africa.  American life and cultures were still somewhat unfamiliar to him.  We weren't sure how he would react so, we thought it best to leave it unsaid.
Dance Mogul: Out of all the dance styles out there what made you choose ballet?
Derrick Yanford:  The reality for me is that I have a love affair with dance itself.  I have always enjoyed the feeling of my body in motion.  The ability to express myself in a nonverbal physical manner has always resonated strongly with me.  I started out as a jazz dancer.  I love jazz.  It's how I learned to move, how to dance.  Jazz has had the biggest influence in my life artistically and I am still very connected to the art form.  It will always be a part of me, of who I am.  As for ballet, my interest in it peaked at the age of 16.  When I watched ballet dancers, it appeared as if they were perfect. Their lines, their flexibility, their strength I was enthralled.  I wanted to discover how to be able to do what they do.  I began studying ballet at a deeper level and added more of it to my training.  I was fortunate to be able to attend a performing arts high school and study with great teachers.  It just kind of blossomed from there.  Studying ballet made me a stronger dancer and a stronger person. It added to and helped me refine my artistry. As this occurred, I began to realize how important it was to deepen my understanding of it.  I knew that the more I understood ballet, the more I would understand dance itself for having a firm understanding in classical ballet allows one to expand in limitless ways.
Dance Mogul: Can you give us some history on the roots of ballet and its connection to African American culture?
Derrick Yanford:  From my understanding, ballet's routes began as baroque dance. Baroque dance was a form of social dance that was done in the ballrooms of high courts during the Italian Renaissance.  It is King Louis XIV that we give credit to the birth of ballet as an independent art form. He was an avid dancer and it was under his rule in the 1600s that he established the Académie Royale de Musique (now known as the Paris Opera) within which emerged the first professional theatrical ballet company, the Paris Opera Ballet. The styles of ballet have gone through many changes and modifications and look quite different now then it did back then including classical, neo-classical, post-structural, and contemporary ballet.  The history involving African American ballet dancers is not unlike the civil rights struggle in this country.  There was a time that you would never see a dancer of color performing in classical ballet.  It was not long ago that the popular opinion was that ballet was for white dancers; that blacks were not deemed worthy to dance the classics.  We have come a long way since those days.  You can now find ballet dancers of every race on stage.
Dance Mogul:  Do you feel more African American youth male and female need to participate more in ballet and how do you convince them that there is success at the end of the tunnel?
Derrick Yanford: It is my belief that a person, regardless of race, sex, religion, or gender engage in whatever activity they so desire.  I believe that it is important for young people to become passionate about something.  To develop their own love affair with whatever peaks their interest. I think it is important that parents nurture their child's passion and be thankful that they are passionate about something.  I also believe as adults, we should help our youth figure out how not only to chase but to capture their dreams.  Give them the tools to make their dreams into realities.  I have come to learn that it is impossible for someone to convince anyone else of something.  People can only convince themselves!!!  As a teacher, I show my students "what" is possible and try my best to instill in them the belief that "anything" is possible the rest is up to them.
Dance Mogul: With ballet what have you been able to accomplish in your career?
Derrick Yanford: I have been blessed and fortunate to have had many accomplishments in my career.  Not only with ballet but with dance in general.  I have danced with a variety of companies.  I have toured the world as a performer, teacher, and choreographer.  But most importantly, I have been able to share my love of dance with so many other people. Whether they have been students, colleagues, or friends.  Dance has presented so many opportunities and experiences that I will cherish for the rest of my life!!!
Dance Mogul: What advice would you give to the youth and their parents that want them involved in the arts professionally?
Derrick Yanford: I really kind of answered this in question 5 but, what I didn't say is that it's not going to be easy.  You've got to work hard.  You must be professional, polite and respectful.  You must constantly work on improving your craft.  You must educate yourself about your industry and how it works.  You must set goals for yourself.  You must have faith and belief in your abilities for if you don't, no one else will either.  It may be a long, hard, arduous journey that may challenge you to your very core but speaking from my own experience I wouldn't change it for the world.  The rewards are priceless!!!
Dance Mogul: The arts have brought you a lifetime of success, how do you feel about the arts being removed from the public school systems.
Derrick Yanford:, Of course, it saddens me to learn that it may become even more difficult for our youth to have access and exposure to the things that have enriched and fortified my life. As much as I love our country, I think it is unfortunate that we don't hold the arts in higher regard.  Yet, I remain hopeful that there will come a time when we think differently about the arts and their importance to society.  We are a relatively young country still growing and changing.  I will do my part to let the younger generation help secure the arts for our future.
Dance Mogul: What are your plans for 2013 and beyond?
Derrick Yanford: My life has unfolded in such a way that I really do my best to take each day as it comes. A one day at a time philosophy has done wonders for me so I do my best to hold true to that.  Life is so short and can take such unexpected twists and turns that I have allowed myself to enjoy the moment and live for today because it all could be taken away in an instant. With that said, I plan to keep teaching, educating, dancing, choreographing, playing, loving, discovering my way through 2013 as I have been for years.
Dance Mogul: Is there anyone you like to thank for helping you on your journey?
Derrick Yanford:  EVERYONE!!!  Everyone whom I've come in contact with.  Everyone who has touched my life.  Everyone who has shown me something new.  Everyone who has cared for me.  Everyone who has challenged me.  Everyone who has let me be me.  Everyone I have loved and has loved me.  It's because of everyone that I am who I am today and I really appreciate that so thank you, everyone.  Love!!!